Kaljužnica (Caltha palustris) je biljka vlažnih staništa, lijepih žutih cvjetova.
Kaljužnica je jedan od predstavnika vrlo rasprostranjene porodice žabnjaka (Ranunculaceae) na području cijele Hrvatske. U flori Hrvatske zastupljeno je 20-ak rodova s oko 130 vrsta. To su bijela i žuta šumarica, zlatica, pavitina, kukurijek, planinčica, ljutić i brojne druge vrste.
Kaljužnica je izuzetno lijepa proljetnica močvarnih terena, obala potoka, kanala i rijeka te vlažnih livada i pašnjaka. Kao i druge proljetnice, zimu preživljava pomoću višegodišnje podzemne stabljike u obliku podanka. Iz podanka u tlu se razvije razgranati korijen. Iz podanka izrasta izdanak biljke koji čini nadzemna stabljika, list, cvijet i plod. Nadzemna stabljika je uspravna, zeljasta i jednogodišnja te šuplja i razgranata. Pri samom tlu nadzemna stabljika je crvenkaste boje koja prema gore prelazi u zelenu. Listovi su naizmjenično raspoređeni, a plojke donjih listova su na dužim peteljkama i veće su. Plojke gornjih listova su puno manje, na kratkim su peteljkama ili sjedeće. Srcolikog su ili burežastog oblika, sjajno zelene. Rubovi plojki su tupo nazubljeni.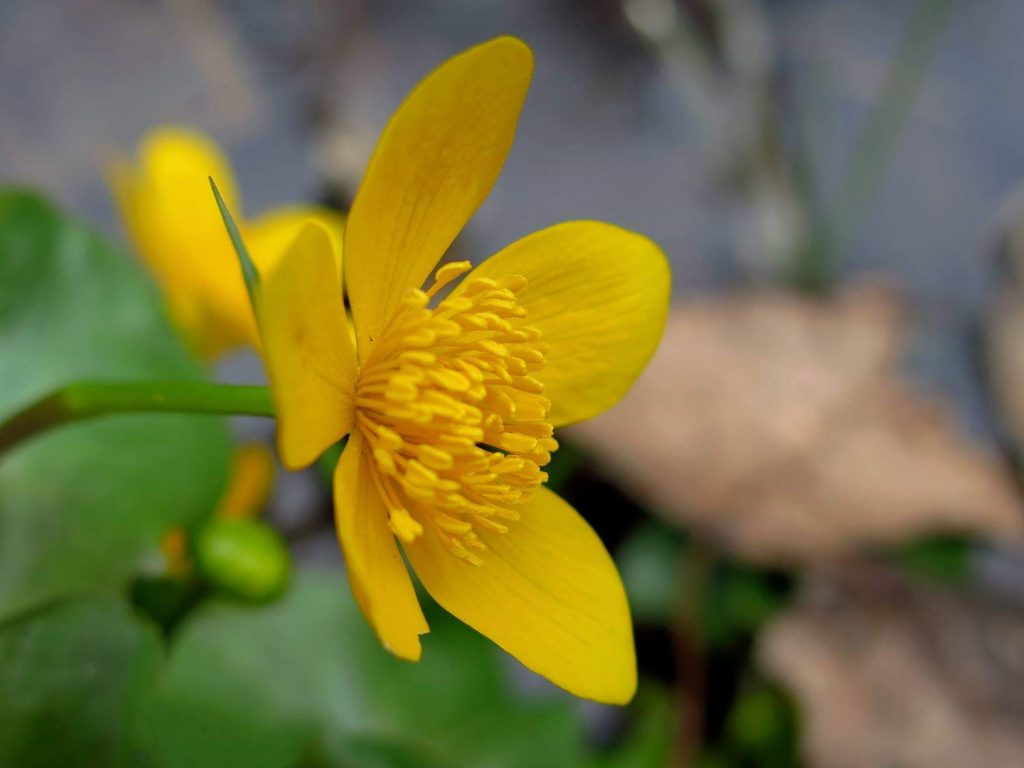 Cvjetovi su veliki, na dugim cvjetnim stapkama, zlatnožute su boje od biljnog pigmenta ksantofila. Imaju 5 slobodnih latica, puno prašnika i tučkova. Cvijet je dakle dvospolan. Cvatnja je od ožujka do lipnja. Ponekad cvate dva puta u istoj godini. Ako ima druge cvatnje, onda je to u jesen. Cvijet oprašuju kukci. Iz oprašenog cvijeta razvije se plod u obliku tobolca, sjemenke kuglastog oblika. Listovi i i nadzemna stabljika su gorkog okusa pa kaljužnicu stoka na ispaši redovito izbjegava.
Osim žutog pigmenta ksanotofila, kaljužnica je izvor različitih biološki aktivnih tvari poput saponina, flavona, karotena, alkaloid magnoflorin i naravno klorofila. Redovito sadrži i otrovno eterično ulje anemonol koje nagriza kožu i sluznicu. Anemonol prilikom sušenja navodno ishlapi. Valja napomenuti da većina biljnih vrsta iz porodice žabnjaka sadrži više ili manje anemonola. Unatoč svemu neki ljudi jedu mlade listove u salati, naravno u manjim količinama. Prevelike količine mladih listova u salati svakako bi bile otrovne za ljudski organizam. Zato je najbolje ne ispitivati jestivost listova kaljužnice. Zbog prekrasnih cvjetova i duge cvatnje kaljužnica postaje hortikulturno sve atraktivnija. Glavni joj je nedostatak to što zahtjeva puno vode. Moguće ju je razmnožavati sjemenkama i podzemnom stabljikom.
Tekst: Mišo Rašan, fotografije: Luka Hercigonja
O autorima:
Mišo Rašan profesor je kemije i biologije, autor mnogih udžbenika, priručnika i radnih bilježnica. Turistički je pratitelj, zaljubljenik u prirodu, putovanja i planinarenje. Luka Hercigonja njegov je učenik, biolog amater te fotograf prirode iz Međimurja. Surađuje s ornitolozima i ostalim znanstvenicima u istraživanju flore i faune Međimurja. Pogledajte njegovu stranicu.