Supralitoral i mediolitoral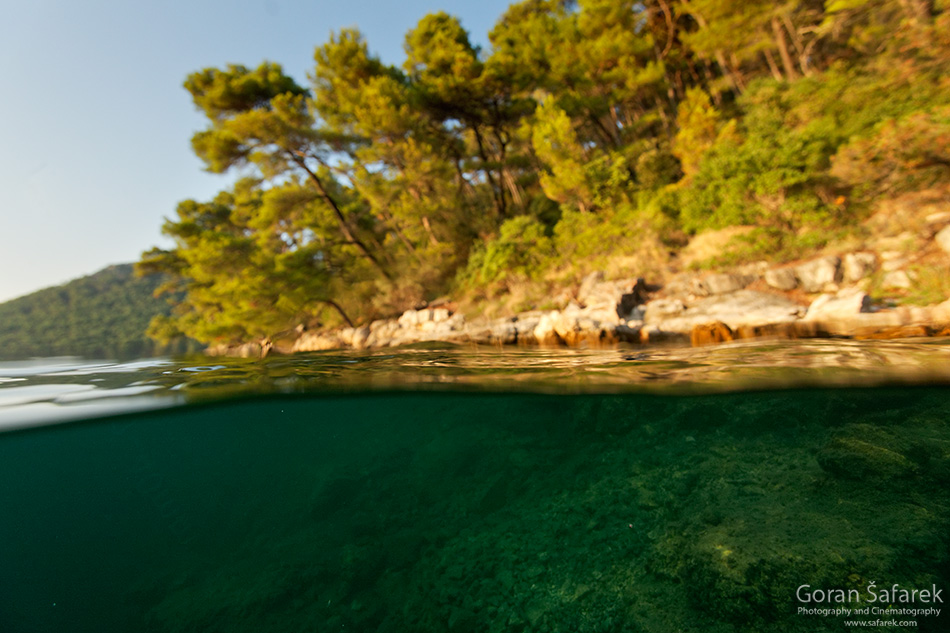 Supra i mediolitoral označavaju dio obale i dna koji je pod utjecajem prskanja valova i morskih mijena. To je ekstremno stanište zbog mnogo soli, stalnog isušivanja i izloženosti suncu i udaru mora.
Najveći dio živog svijeta Jadranskog mora pripada obalnom području koje se pruža do dubine od 200 metara i zauzima najveći dio dna Jadranskog mora. Dijelimo ga u nekoliko podstepenica.
Supralitoral – zona prskanja valova
Najviša, odnosno najplića jest supralitoral, granica kopna i mora, područje velikih razlika i ekstremnih uvjeta za mnoge organizme. Najvećim je dijelom izvan vode, a kvase ga prskanje i razlijevanje valova. Visina te stepenice varira od pola metra na zaštićenim mjestima pa do nekoliko metara uvis ako je obala izložena vjetru koji nosi more. Neke modrozelene alge, poput one u obliku malih crnih kuglica, ovdje mogu preživjeti, kao i pojedine životinje kao što su, primjerice, mali obalni pužić, izopodni račić babura i nepokretni rak vitičar brumbuljak. Česte su male lokvice nastale radom valova, ali i kiše.
Mediolitoral – zona izmjene morskih mijena
Zona izmjene morskih mijena, u kojoj more poplavi obalu u dijelu dana, zove se mediolitoral. Tu su životni ekstremi samo malo blaži, a živa su bića prilagođena za stalne cikluse suhe i mokre faze. Neki su od njih skupljači naplavina koje za sobom ostavlja plima. Čest je rak gomnar ili šuša, kojeg lako vidimo na stijenama, a na svaki se znak opasnosti zavlači u rupe. Prošeće ovdje i jedina jadranska "amfibijska" ribica, babica. Pojedine vrste algâ tvore prave livade, npr. na sjevernom Jadranu česta je smeđa alga bračić, dok crvena alga Catenella opuntia raste u zasjenjenim raspuklinama uz površinu mora. U onečišćenu moru pored naselja ili luka prevladavaju zelene alga zvane morska salata. Svima su poznati priljepci koji sliče na školjku, no to je puž, a sličan mu je i hiton. U raspuklinama stijena i prevjesima često se nalaze svima poznata crvena moruzgva i puževi ogrci. Dagnje, crne jestive školjke, mjestimice grade gusta naselja, posebice na područjima u kojima struje donose mnogo organskih tvari koje filtriraju i kojima se hrane.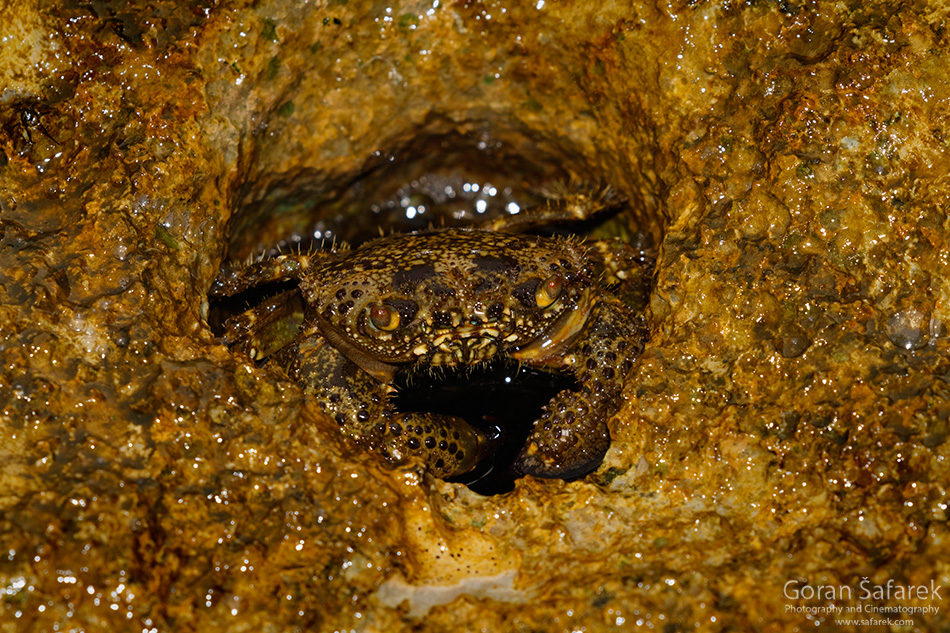 Šljunčane i pješčane obale
Onih 5 % šljunčane i pjeskovite jadranske obale, ali nerijetko i muljevite (močvarne), drukčijih su karakteristika od stijena. Budući da je podloga horizontalna, teško je odrediti točnu granicu između supralitorala i mediolitorala. Ujedno je teže odijeliti kopno od mora i slanu od slatke vode na mjestima gdje je ima, najčešće na ušćima rijeka ili izvorima vode. Nastaju prave slane močvare, pa ta područja imaju i veću proizvodnju organske tvari od ostalih obalnih staništa, što je i inače odlika močvarnih staništa.
Lako ih prepoznajemo po močvarnim biljkama, prije svega šaševima i sitovima, a u samoj vodi često dominiraju biljke caklenjače. Njezine mesnate stabljike preživljavaju u vrlo slanoj vodi. Podloga je na šljunčanim i pješčanim plažama pomična, tj. valovi, a nešto manje i mijene, valjaju i pomiču zrnca pijeska i veće oblutke šljunka. Mnoge se vrste stoga ukopavaju, a izlaze van da bi pobrali ostatke pošto se povuklo more. Pijesak i šljunak nastanjuju različiti izopodni i amfipodni rakovi te mnogočetinaši poput vrste Ophelia radiata.
Iduća, niža stepenica, koja je cijelo vrijeme pod morem naziva se infralitoral, a čine ga više vrsta dna: kamenito dno, pješčano dno, šljunčan dno, detritusno dno, koraligen, morske špilje itd.
O autoru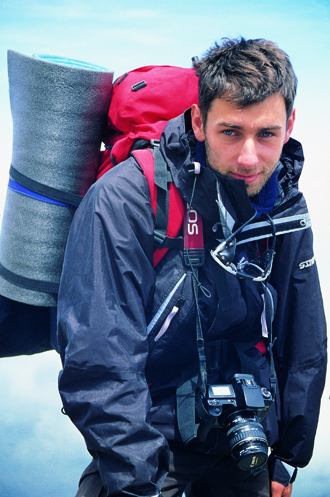 Goran Šafarek
Goran Šafarek je fotograf, snimatelj, biolog, autor i avanturist. Sudjelovao je u brojnim stručnim i znanstvenim projektima u Hrvatskoj i svijetu, objavio je više od stotinu članaka u popularno-znanstvenim časopisima poput National Geographica i Meridijana, snimio nekoliko dokumentarnih filmova te objavio nekoliko knjiga.
Više o autoru...