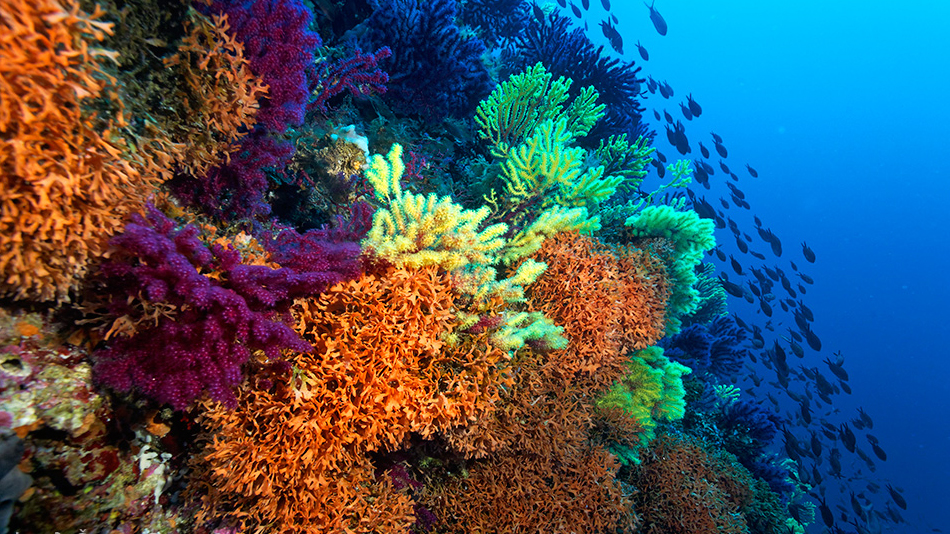 Koraligen je jedno od najbogatijih i najljepših staništa morskog dna. Čine ga šarene gorgonije, crvene alge, mahovnjaci i ostala bića podvodnih strmaca.
Koraligen je dio infralitorala Jadranskog mora, odnosno morskog dna koje je cijelo vrijeme pod morem. Ostali dijelovi infralitorala su kamenito dno, pješčano dno, šljunčano dno, detritusno dno, koraligen, morske špilje itd.
Jedno od njih podvodne su strmine, "litice" na kojima se razvijaju zajednice koje nazivamo koraligen, a naziv dolazi od crvenih algi Corallinaceae. To je možda i najegzotičnije stanište, biološki vrlo vrijedno, uz rame livadama posidonije, ali vizualno najatraktivnije. Scena šarenoga "podvodnoga cvjetnog vrta" brojnih živih bića uz koje plove brojne ribe odaje dojam tropskoga koraljnoga grebena. Crvene alge u svoja tjelešca nakupljaju kalcijev karbonat i stvaraju podlogu, "tlo" na koje se potom mogu pričvrstiti i rasti druga živa bića.
Šareni vrtovi Jadranskog mora
One su često ljubičasto obojene, no ne mogu se mjeriti s gorgonijama, vrstama koralja. To su gotovo prava mala stabalca, no zapravo su životinje. Mogu narasti gotovo pola metra, a poput ostalih koralja, zajednice su sićušnih polipa. Love plankton, pa gorgonije nalazimo uz jače morske struje koje blago povijaju njihova nježna tijela. Najčešća je žuta rožnjača, no najljepša je spektakularna crvena rožnjača, koja često zna biti u žutocrvenoj kombinaciji. Jedna je od najljepših lokacija otok Sušac kod Lastova.
U koraligenu dolazi i poznati crveni koralj, no on je prelovom u velikoj mjeri nestao s mnogih jadranskih lokacija. Poznat je bio otok Zlarin, na kojem tradicija koraljarstva traje stoljećima. Prvi pisani tragovi o lovu na koralje na Jadranu potječu iz 13. stoljeća. Zlarinski majstori i danas ručno rade nakit od koralja na isti način kao i prije četrdesetak godina, pa im, primjerice, za izradu jedne ogrlice treba i nekoliko dana.
Mahovnjaci su također bujni poput narančaste vrste Pentapora fascialis. To su kolonije sa sićušnim sesilnim životinjicama, a prisutna je podjela rada na obranu, hranjenje i razmnožavanje. Ti sesilni organizmi zahtijevaju relativno malo svjetlosti, ali traže morske struje koje im donose hranjive tvari. U mirnim, slabo hranjivim uvjetima rast algi mjeri se u milimetrima na godinnu, a gorgonija u centimetrima. Zbog toga svako oštećivanje ima dugotrajne posljedice, sa sporim zaraštanjem. Danas su većinom crveni koralji i gorgonije na dubinama većim od 40 metara.
Životinje koraligena
U stijenama koraligena, a posebice noću kada se hrani beskralježnjacima i strvinama, često nailazimo na jastoga. Prepoznajemo ga po dugim ticalima, ali smanjenim kliještima. Zakržljala kliješta imaju i rakovi kuka i zezavica. U južnom Jadranu šarolikosti koraligena doprinose svojom crvenom bojom plove jere (kirnjice). Sve su ribe u grupi ženke, osim najveće. Kada ugine, zamjenjuje ga najveća ženka koja tada mijenja spol. Crvenilu doprinosi i škarpina dok nepomično leži na nekoj izbočini. Ne treba je dodirivati zbog otrovnih bodlji. Mužjak ribe smokve u doba razmnožavanja, tijekom proljeća, dobiva šareno svadbeno ruho. Nije samo šaren, već i "marljiv" jer od algi gradi gnijezdo u koje ženka polaže ikru.
O autoru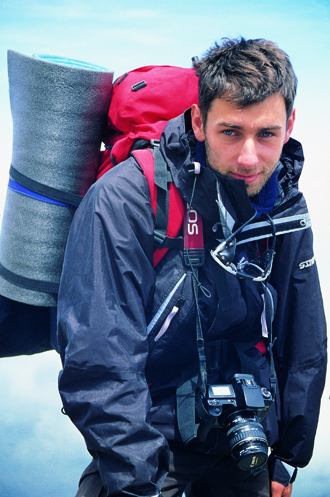 Goran Šafarek
Goran Šafarek je fotograf, snimatelj, biolog, autor i avanturist. Sudjelovao je u brojnim stručnim i znanstvenim projektima u Hrvatskoj i svijetu, objavio je više od stotinu članaka u popularno-znanstvenim časopisima poput National Geographica i Meridijana, snimio nekoliko dokumentarnih filmova te objavio nekoliko knjiga.
Više o autoru...