Još jedna rana biljka čije žute cvjetove opažamo već krajem zime je podbjel (Tussilago farfara).
To je trajnica je iz vrlo bogate porodice glavočika (Asteraceae), koja sadrži oko 1620 rodova i preko 23.600 vrsta. Biljka cvate prije nego što izađu listovi. Tada je visine do 15 cm, a kasnije, kada se razviju veliki, krpasti i nazubljeni listovi, izrasta u biljku visoku do 30 cm. Korijen je vrlo snažan i može dopirati do 1m dubine.
Razmnožava se sjemenkama i podancima (rizomom tj. podzemnom stabljikom). Biljka je vrlo otporna i često ima pionirsku ulogu u obraščivanju tla, što znači da priprema uvjete za naseljavanje drugih vrsta. Nalazimo je uz ceste, putove, nasipe, potoke, obale rijeka, uz željezničke pruge itd. U Hrvatskoj je široko rasprostranjena i česta biljka.
Cvjeta tijekom ožujka i travnja ili ranije ako to dozvole vremenske prilike, a listovi se pojavljuju u svibnju kada završi cvjetanje.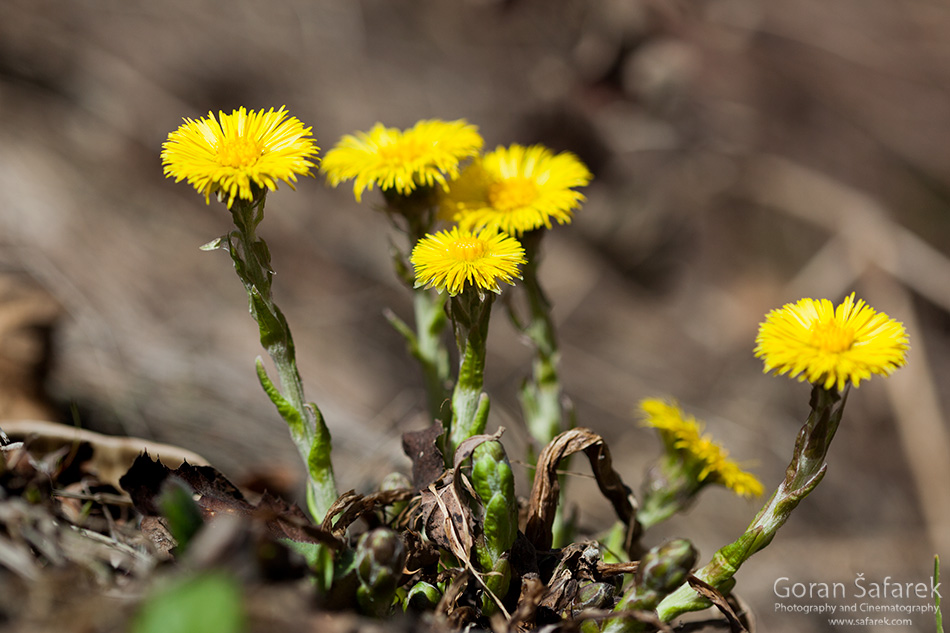 Podbjel se u narodnoj medicini prvenstveno koristi kao lijek protiv kašlja (Tussilago dolazi od lat. tussis = kašalj) i to kao pomoć pri iskašljavanju i kao lijek za ublažavanje bolesti dišnih organa. U tu svrhu sabiru se list i cvjetne glavice. Međutim, radi dokazanog prisustva pirolizidinskih alkaloida, koji štetno utječu na jetru i imaju kancerogeni učinak, preporuča se izbjegavati dugotrajniju upotrebu podbjela.
Tekst: Mišo Rašan, fotografije: Luka Hercigonja
O autorima:
Mišo Rašan profesor je kemije i biologije, autor mnogih udžbenika, priručnika i radnih bilježnica. Turistički je pratitelj, zaljubljenik u prirodu, putovanja i planinarenje. Luka Hercigonja njegov je učenik, biolog amater te fotograf prirode iz Međimurja. Surađuje s ornitolozima i ostalim znanstvenicima u istraživanju flore i faune Međimurja. Pogledajte njegovu stranicu.