Velika mišjakinja (Stellaria holostea) proljetnica je naših šuma.
Velika mišjakinja zeljasta je višegodišnja biljka iz porodice karanfila (Caryophyllaceae). U flori Hrvatske rod Stellaria zastupljen je sa sedam vrsta. Jedna od tih vrsta je i velika mišjakinja, koja raste na šumskim čistinama, livadama, na rubovima šuma, u živicama, uz putove te općenito na zapuštenim mjestima. Velika mišjakinja je dobro rasprostranjen gotovo u svim listopadnim šumama Panonske Hrvatske, Gorskog kotara, Like i Velebita.
Stariji dijelovi stabljike polegnuti su i pužu po tlu. Na tim dijelovima stabljike nema listova i ti se dijelovi zakorijenjuju. Tako se biljka širi vegetatitvo na staništu. Izdignuti dijelovi stabljike su zelene boje i nose na sebi listove, cvjetove i plodove. Listovi su bez peteljki, sjedeći na stabljici. Iz jednog nodija izrastaju po dva nasuprotna lista koji su pod pravim kutem u odnosu na prethodne, donje listove. To omogućuje bolje iskorištavanje svjetlosti, kako gornji listovi ne bi donjima činili zasjenu.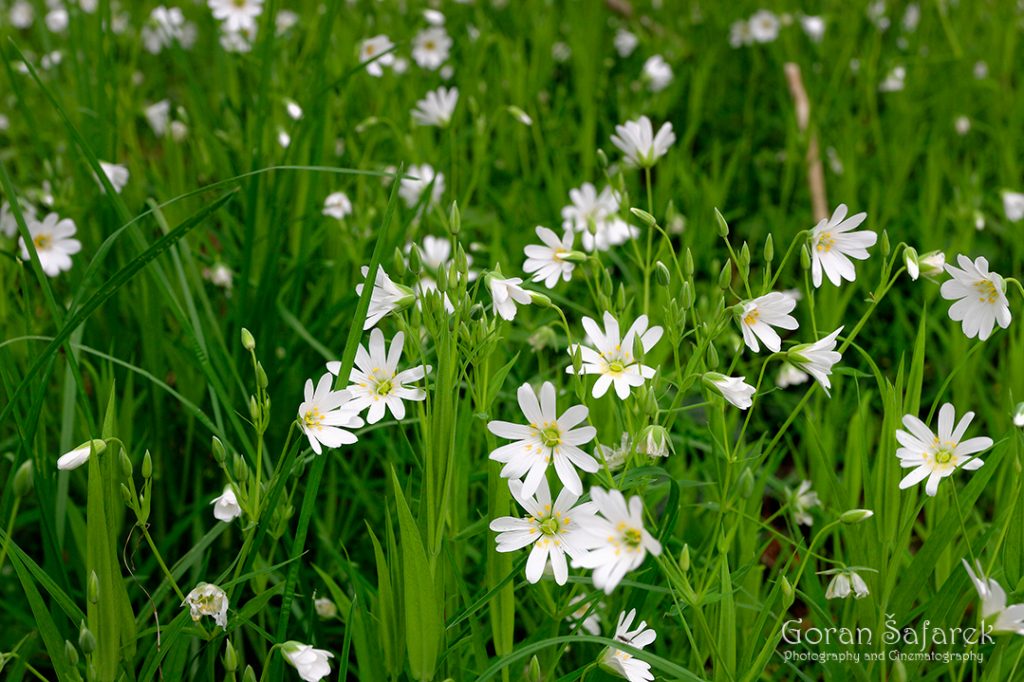 Plojke listova su lancetaste, oštro zašiljenih vrhova, hrapave na rubovima. Prilično dugačke cvjetne stapke izrastaju u pazušcima listova. Cvjetovi su dvospolni. Čašku cvijeta čini pet zelenih lapova. Vjenčić se sastoji od pet bijelih latica koje su na krajevima urezane do pola središta. To može zbuniti, jer se radi tih ureza naizgled čini da se vjenčić sastoji od deset latica. Latice su obično dvostruko duže od lapova. Prašnika ima 10, u dva ciklusa po 5. Žute prašnice vire iz cvijeta. Nadrasla plodnica je jedna s većim brojem sjemenih zametaka.
Cvate od sredine ožujka do svibnja, a cvjetove oprašuju kukci. Iz cvjetova se razvija plod u obliku tobolca koji se, kada sazrije, otvara pomoću 6 zaklopaca (iznimno 4 i 8). Crvenosmeđe sjemenke veličine su do 2 mm. Prema literaturnim podacima, mladi listovi i izdanci velike mišjakinje jestivi su. Svježi se koriste za pripravu salata, a neki ih pripremaju poput špinata. Iz izdanka velike mišjakinje izolirano je više različitih flavonida čija se biološka aktivnost još ispituje.
Tekst: Mišo Rašan, fotografije: Luka Hercigonja
O autorima:
Mišo Rašan profesor je kemije i biologije, autor mnogih udžbenika, priručnika i radnih bilježnica. Turistički je pratitelj, zaljubljenik u prirodu, putovanja i planinarenje. Luka Hercigonja njegov je učenik, biolog amater te fotograf prirode iz Međimurja. Surađuje s ornitolozima i ostalim znanstvenicima u istraživanju flore i faune Međimurja. Pogledajte njegovu stranicu.