Guske su nam poznate iz seoskih dvorišta, ali većina ovih domaćih ptica nekad je davno pripitomljena od divlje guske.
To su velike ptice, raspona krila 150 – 160 centimetara, a teže do pet kilograma. Sivog su perja, jakog, dugačkog vrata, narančastoga kljuna i svijetlocrvenih nogu. Najčešće su vezane za vodena staništa središnjeg i sjevernog dijela Europe, ali su i u Hrvatskoj česte. Redovito slijeću na naše močvare za migracija, a dio ih se gnijezdi i u nas, ponajviše u Kopačkom ritu. Čak je nekoliko stotina parova odabralo ovo poplavno područje za podizanje mladunaca. Gniježđenje počinje u proljeće, obično u blizini vode. Guska gradi gnijezdo na tlu skriveno u visokoj vegetaciji, od bilja i svojega odbačenog perja. Ženka nese od 7 do 10 krupnih jaja na kojima sjedi gotovo mjesec dana. Poslije izlijeganja guščići su vrlo brzo aktivni i prate majku.
VIDEO:
Unatoč težini, izvrsni su letači i za migracija mogu prevaliti stotine kilometara. Brzo mašu krilima, slično kao u pataka. Jata su za leta pravilne V formacije – tako smanjuju otpor zraka i potrošnju energije. Ptice sa sjevera Europe zimuju uglavnom na Sredozemlju, a na putu često slijeću u odmorišta (ribnjaci, Kopački rit …). Ondje se hrane, nadopunjujući masne zalihe potrebne za nastavak leta i zimu. Vole sjemenke i travu, a znaju jesti i ikru riba i žaba. Ne libe se sletjeti i na neko žitno polje i u to doba žive u velikim jatima.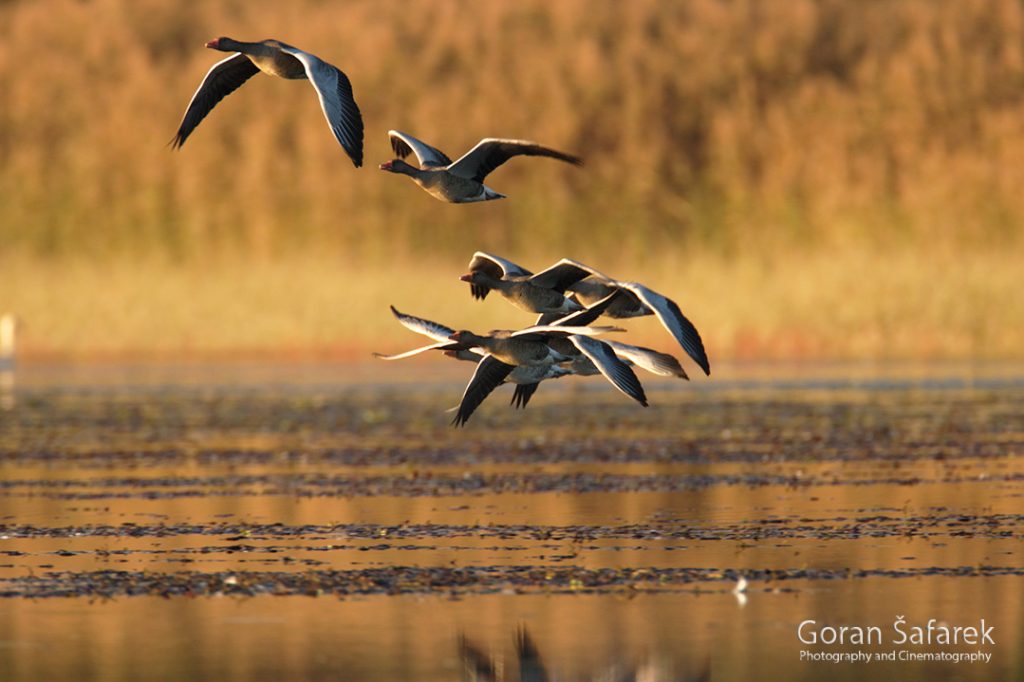 Iako se samo divlja guska gnijezdi u nas, u Hrvatskoj srećemo još neke vrste gusaka. Gusaka glogovnjača i lisastih gusaka ima na tisuće za vrijeme migracije, ponajviše opet u Kopačkom ritu.