Smreka (Picea abies) je poznata vrsta crnogorice, a kod nas rjeđe dolazi u planinama od slične joj vrste jele. Smreka je vrsta ekstremnih, hladnijih staništa.
Smreka je crnogorično drvo visine i do 50 metara, sa gustom piramidalnom krošnjom. Deblo joj je vitko i ravno, promjera do metra. Grane su pršljenasto raspoređene i većinom sabljasto zakrivljene. Kora joj je u mladosti svijetla i tamno smeđa, te glatka, a kasnije bude tamno crvenkasta i ispucane kore. Iglice duge 1 – 2 cm, a široke 1.5 milimetar. Zelene, četverobridne, na vrhu zašiljene.
Smreka cvate u svibnju. Muški cvjetovi su u obliku crvene rese, a ženski u obliku češerastih cvatova zeleno do crvene boje. Češeri su šišarice, valjkastog su oblika, smeđi, dugi 16cm, a široki oko 4 cm. Za razliku od jele gdje češer stoji, u smreke on visi. Češeri otpadaju tek kad izbace okriljene sjemenke. Sjeme sazrijeva u rujnu i listopadu.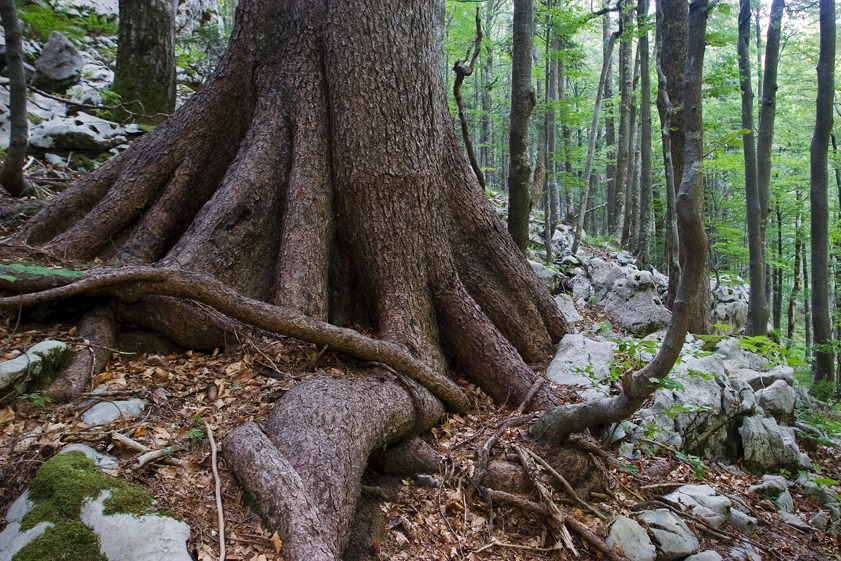 Korijen smreke je plitak, do dva metra dubine, pa ju vjetar nerijetko izvali. Tanjurasto je razgranjen bez centralnog korijena, ali sa brojnim bočnim korijenima na kojima je razvijena simbioza korijena i gljiva (ektotrofna mikoriza). Miris izdanaka smreke, odnosno jele, je ugodan, smolast, okus je nešto gorak, smolast i poput terpentina. Drvo ima isti miris i okus.
Kako razlikovati bor, jelu i smreku?
Smreka je tipična vrsta polusjene, koja ne podnosi zasjenu drveća gustih krošanja šume. Vrh njene krošnje mora biti osvijetljen barem dio dana.
Centar rasprostranjenja smreke su više planine srednje Europe i sjeverna Europa. Stoga ona kod nas ne izgrađuje neku šumsku zonu kao što je to slučaj npr. s bukvom ili hrastom kitnjakom. Prirodno je rasprostranjena na dva tipa staništa. Jedno su ponikve, uvale i klanci gorske Hrvatske u kojima se zbog temperaturne inverzije skuplja hladan zrak, tzv. mrazišta, pa takve specifične mikroklimatske prilike omogućuju konkurentnost smreke u odnosu na druge drvenaste vrste. Taj tip smrekovih šuma (Aremonio-Piceetum) predstavlja reliktnu vegetaciju ledenih doba kada je borealna vegetacija bila rasprostranjena znatno dalje na jug. Uspijeva na podzolastim tlima, na nadmorskim visinama od 900-1100 m. Poznate šume ovog tipa su Štirovača na sjevernom Velebitu i šume u Lazcu između Risnjaka i Snježnika.
Drugi tip staništa su strme vapnenačke stijene sa vrlo malo tla tako da je zbog oskudnih uvjeta onemogućen rast drugih drvenastih vrsta. Kako je smreka tzv. pionirska vrsta tj. može rasti u vrlo skromnim uvjetima s malo tla i vode osvojila je takva staništa i izgrađuje poseban tip šume (Listero-Piceetum abietis). Ova šumska zajednica razvija se na nadmorskim visinama od 950-1450 m n.m. Raste na Samarskim i Bijelim stijenama, na Lubenovcu (sjeverni Velebit), u Smrekovcu (Risnjak).
No osim na ovim prirodnim staništima smreka je tijekom 19. stoljeća kao jedna od najznačajnijih šumarskih vrsta, prije svega zbog brzog rasta i skromnih zahtjeva, sađena i na mnoga druga područja gdje su iskrčeni drugi tipovi šuma, npr. brdske bukove šume ili šume bukve i jele tako da je smreka danas rasprostranjena šire no što bi to prirodni uvjeti dozvolili.