Kad se čini da je vegetacijska sezona gotova, travnjake u jesen ukrase predivni cvjetovi. To je jesenski mrazovac (Colchicum autumnale), lijep, ali otrovan.
Jesenski mrazovac ili samo mrazovac je izuzetno otrovna biljka iz porodice mrazovki (Colchicaceae). Sjemenke, kao i čitava biljka, sadrže jaki otrov kolhicin. Smrtna doza za odraslog čovjeka iznosi 20 mg, što je masa kolhicina koju sadrži otprilike 5 grama sjemenki. Zbog visoke koncentracije otrova, mrazovac je u narodu poznat i kao "biljni arsen". Biljka raste samoniklo na vlažnim livadama i osunčanim šumskim proplancima.
Zimu i ljeto (nepovoljna životna razdoblja) mrazovac preživljava pomoću lukovice iz koje u zemlju izrasta čupavo korijenje. Jajasta lukovica je obavijena smeđim ljuskama. U rano proljeće iz lukovice izrastaju listovi vrlo kratkog životnog vijeka. U to kratko vrijeme listovi trebaju fotosintezom producirati dovoljnu pričuvu organskih tvari potrebnih za razvoj cvijeta. Lancetaste plojke listova su bez peteljke, uspravno se probijaju iz tla. Lisne žile su usporedne. Listove mrazovca moguće je zamijeniti naizgled sličnim listovima jestivog medvjeđeg luka (Allium ursinum L.), koji se sabiru u podjednako doba godine. (Ukoliko niste dobar poznavatelj obaju ovih vrsta, najbolje je ne skupljati listove medvjeđeg luka ili obratiti se za savjet iskusnijem poznavatelju bilja.)
Cvatnja je redovita u jesen, a samo ponekad i u proljeće. Kad cvate u proljeće cvjetovi su kržljavi. Trimerni cvjetovi su pojedinačni i dvospolni. Lapovi (3) i latice (3) preobraženi u perijant (6) svijetloružičaste boje. Prašnika ima 6, raspoređeni su u dva ciklusa (3+3). Plodnica se sastoji od 3 plodna lista. Cvjetove oprašuju kukci, uglavnom pčele i leptiri. Plod je tobolac.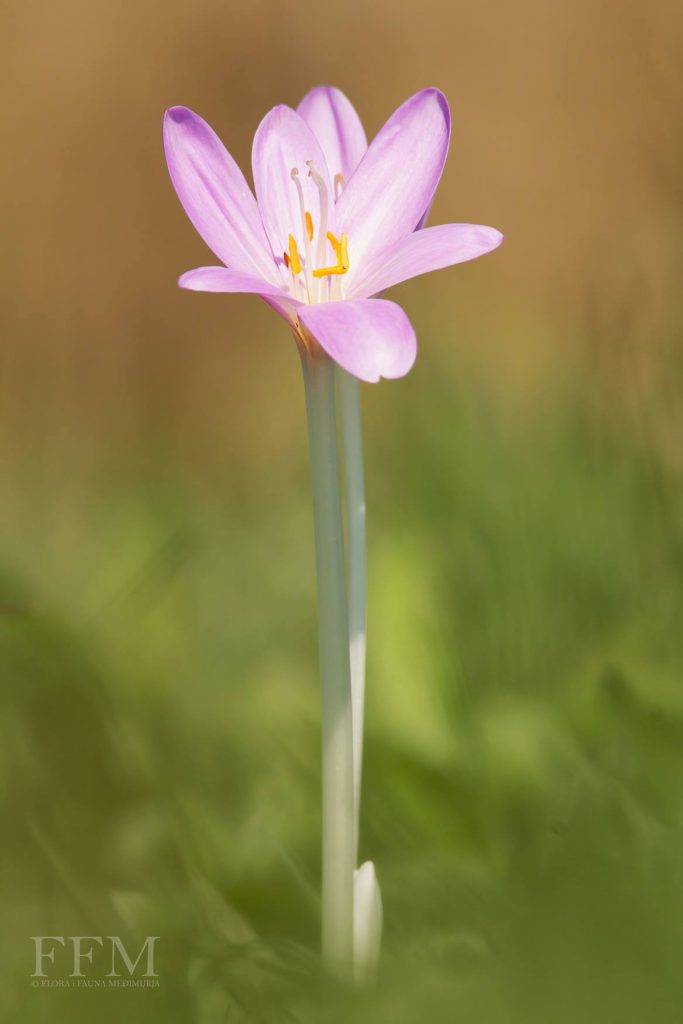 Mrazovac je moguće razmnožavati sjemenkama ili lukovicom. Uzgaja se i hortikulturno. Treba jako pažljivo rukovati sa sjemenkama i lukovicama, najbolje u rukavicama zbog mogućih alergijskih reakcija kože. Ukoliko se uzgaja iz sjemenke, potrebno je 4-5 godina da bi mrazovac cvao.
Iako otrovan, mrazovac se u prošlosti koristio i u ljekovite svrhe. Koristi se i danas u medicinske svrhe, no nikako nije za kućnu upotrebu.
Tekst: Mišo Rašan, fotografije: Luka Hercigonja
O autorima:
Mišo Rašan profesor je kemije i biologije, autor mnogih udžbenika, priručnika i radnih bilježnica. Turistički je pratitelj, zaljubljenik u prirodu, putovanja i planinarenje. Luka Hercigonja njegov je učenik, biolog amater te fotograf prirode iz Međimurja. Surađuje s ornitolozima i ostalim znanstvenicima u istraživanju flore i faune Međimurja. Pogledajte njegovu stranicu