Vretenca (Odonata) veliki su leteći kukci koji mnoge podsjećaju na malene helikoptere, a zovu ih i vilini konjici ili konjska smrt. Strah i trepet drugih kukaca, a kao ličinke žive na dnu bara, jezera i rijeka.
Vretenca su drevna skupina kukaca čije su se današnje vrste malo promijenile kroza stotine milijuna godina od svojih predaka u prvim šumama karbona. Dijele se u dvije skupine. U debelostrukih vretenaca (Anisoptera) stražnja su krila šira od prednjih, a pri mirovanju ih drže položena. Tankostruka vretenca (Zygoptera) imaju posve jednaka krila koja pri mirovanju usprave. Vretenca obaju skupina veliki su i šareni kukci pa najveća vrsta veliki car naraste do 8,5 cm. Neki su nebeskoplavi poput vretenca, a vatreni je jurišnik jarkocrven. Nerijetko ih krase uzorci još smeđeg, zelenog, žutog… Neki imaju i šarene mrlje na krilima.
Tijelo im je duguljasto i s dva para opnastih, prozirnih krila na kojima se vidi mrežasta nervatura. Noge su im relativno slabe. Izvrsni su letači (posebno debelostruka vretenca), među najbržima u svijetu kukaca, a unatoč velikim krilima i brzim zamasima, ne čuje se zujanje, katkad šuškanje. Kada prednjim parom zamahuju prema gore, stražnjim zamahuju prema dolje i obrnuto. Mogu letjeti i na mjestu, a onda u trenu "nestati" i to u svim smjerovima, čak i unazad. Vretenca u letu love druge komarce, mušice i druge kukce. Prvo ih uhvate trnastim nogama, zatim ih snažnim usnim organima grizu i proždiru. U lovu se snalaze velikim, kuglastim očima koje čine veći dio glave, sastavljenim od 10 000 okašaca, što im daje izvrstan pregled prostora.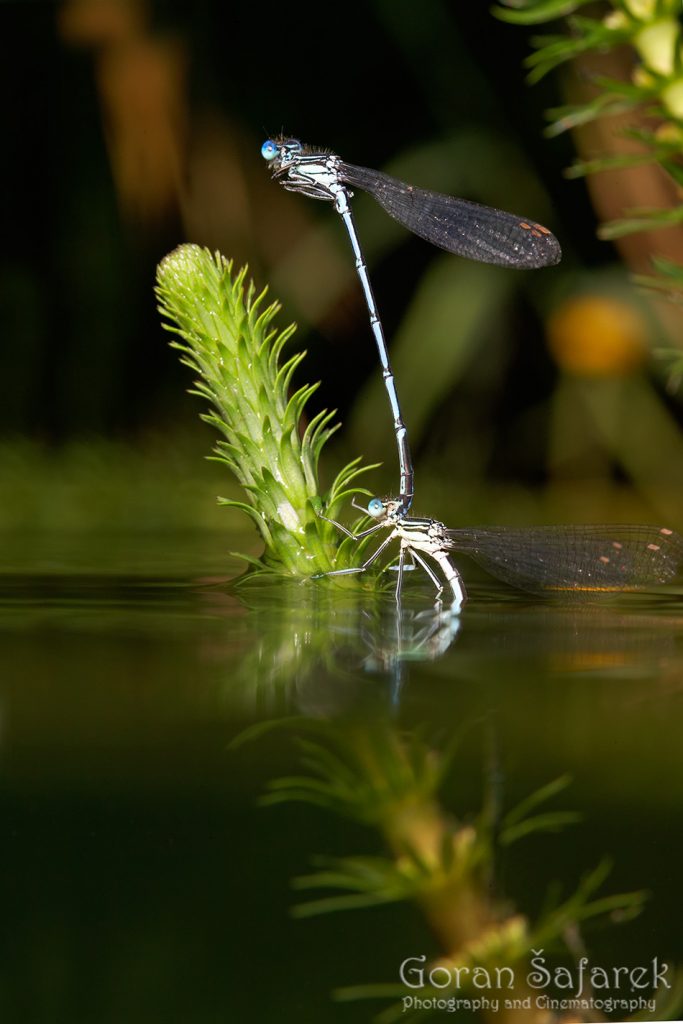 Često se vidi da dva vretenca lete zajedno, i to svinutih tijela u obliku srca, što je dio "ljubavnog plesa". Mužjak primi ženku pomoću svojih zadčanih nastavaka za čelo i iza glave ili za prsa. Nakon oplodnje ženka sama ili u društvu mužjaka polaže jaja u vodu ili ih urezuje i utiskuje u vodeno bilje. Tu počinje vodena faza života ovih kukaca. Ličinke su izduženog oblika, često s nastavkom na kraju tijela. Žive na dnu i dišu škrgama te su također grabežljive i love druge beskralježnjake u vodi, ali i punoglavce, čak i riblju mlađ. Plijen love krinkom, posebno izduženim čeljustima koje mogu izbaciti poput opruge. Plijen potom grizu, baš kao i odrasli.
PRATITE NAS NA FACEBOOKU I INSTAGRAMU!
Ličinke žive na dnu i do tri godine, presvlačeći se 9 – 16 puta, a nakon zadnjeg će presvlačenja ispuziti van i pričvrstiti se za biljku ili stijenu. Nakon nekog će vremena iz njega izići mladi leteći kukac koji se još neko vrijeme suši i dobit će krila te otići u svijet. Iza njega ostaje smećkast svlak, posljednja uspomena na život na dnu. Nakon godina na dnu, vretenca imaju najviše tri mjeseca za lov, obranu teritorija i, najvažnije, da se spare i pokrenu novi ciklus. U Hrvatskoj živi sedamdesetak vrsta, a nalazimo ih posvuda gdje ima imalo vode.