Vjetruša (Falco tinnunculus) naš je najmanji sokol, ali ne i najmanje zanimljiv. Stanovnik je otvorenih krajeva, ali sve više osvaja gradove i postaje naš susjed. Prepoznat ćemo ju po njenom karakterističnom lebdenju u zraku dok brzo maše krilima.
Vjetruša je izvrstan letač, brz i okretan, baš kao i većina sokolova. Tome je doprinijela i građa tijela. Duga, ali uska i snažna krila te isto tako dugačak i uzak rep omogućuju joj akrobacije u zraku. Brzo maše krilima i postiže zavidne brzine. Vjetruša međutim može i "zastati" u zraku, pa leprša na jednome mjestu kao helikopter prije nego što se obruši. U letu često raširi rep u lepezu. Mužjaka razlikujemo od ženke jer je sive glave i crvenosmeđih leđa s nešto tamnih mrlja na trbuhu dok ženka ima tamnija leđa.
Većina sokolova izvrsni su i aktivni letači koji u lovu presreću druge price u letu. Vjetruša međutim lovi na tlu, a najviše traži miševe, voluharice i ostale glodavce. Patrolira leteći iznad područja, pogleda uperenog prema tlu. Kada primijeti plijen brzo mašući krilima lebde na mjestu i čeka neopreznog glodavca da izvire iz svojih rupa u tlu i onda se naglo obrušava. Zna se doduše zaletjeti i na neopreznog vrapca ili drugu pticu te veličine, a neće odbiti ni gujavicu ili većeg kukca, naročito zimi.
U rano proljeće počinje kliktanje ovih ptica – vrijeme je za parenje. Mužjak tada donosi plijen ženki i potom slijedi parenje. Poslije toga zajedno traže gnijezdo. Ne grade ga sami već se naseljavaju u pukotine litica, zgrada ili stara gnijezda drugih ptica, uključujući gačaca i vrana na drveću. Često se "svađaju" s golubovima za gnijezdo na atraktivnoj lokaciji. Nakon što ga nađu, ženka u gnijezdo potom polaže 3 -6 jaja na kojima leži skoro mjesec dana. Mužjak joj cijelo to vrijeme nosi hranu, a tako nastavlja i kad se ptići izlegu. S vremenom mu se u lovu pridružuje i ženka.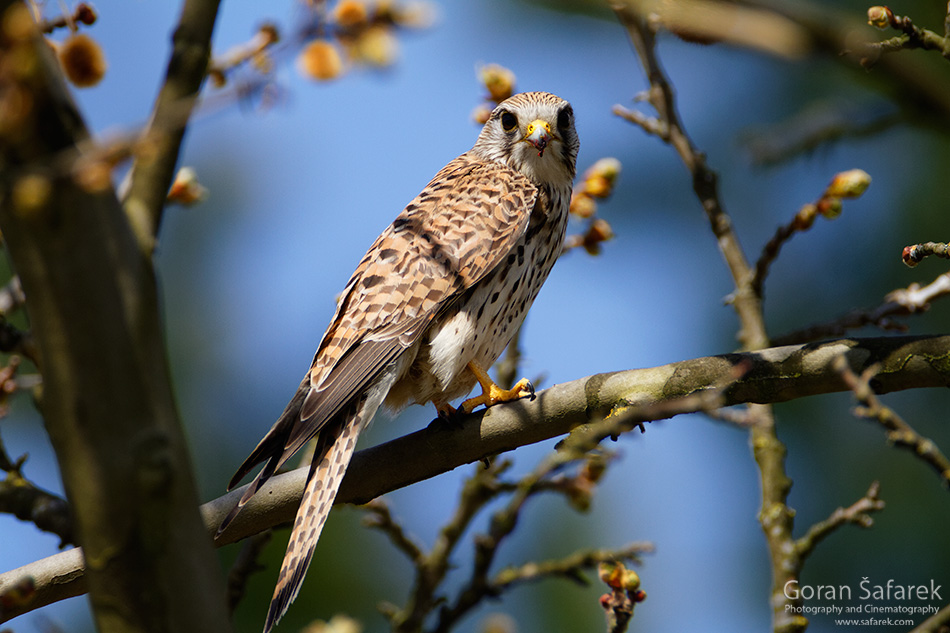 Vjetruše žive na otvorenim prostorima koji nisu previše zarasli i gdje može lako naći plijen. To su često polja, livade, uz vlažna staništa… Vjetruše su vrlo prilagodljive pa su osvojile naša naselja, naročito gdje su više zgrade, crkveni tornjevi ili silosi. U pukotinama građevina prepoznaju svoja prvobitna staništa. Gradski trgovi i ostala otvorena urbani prostori za njih su izvanredna mjesta za lov, pogotovo što nema toliko drugih lovaca kao u prirodi. Također, njima paše niska, ošišana trava koja je čest slučaj u dobro upravljanim gradovima.