Gdje god ima slatke vode, gotovo ćemo uvijek naći vodenu zmiju – bjelouška (Natrix natrix). To je zmija neotrovnica.
Bilo da klizi po vodi ili se provlači uz bilje, ova je zmija vrlo česta u nizinskoj Hrvatskoj, ali i u krškom dijelu uz lokve, rijeke i jezera. To je najraširenija zmija u Hrvatskoj. Prepoznajemo je prije svega po svijetlim uškama iza glave na tamnosivom tijelu i po tome da boja uški varira u nijansama od bijele do narančaste. Kao i većina zmija u Hrvatskoj, boja im je tijela varijabilna. Može biti tamnije ili svjetlije siva, smeđa, čak i crna. Može narasti čak do dva metra, iako su tako veliki primjerci u prirodi danas vrlo rijetki.
Saznajmo više o zmijama Hrvatske!
Bjelouška je poznati lovac riba i vodozemaca, ali katkad će uloviti malog sisavca, puža, malu pticu … Plijen aktivno traži po danjem svjetlu, u vodi ili na suhom. Dobro pliva na površini, a može i zaroniti čak do 25 minuta. Kao i većina zmija, plijen jede od glave. Nije otrovnica. Iako sama lovac, često je i žrtva drugih grabežljivaca, pa je razvila obranu. Prvo sikće, baca se i prijeti ugrizima, ali ih ne ostvaruje. Često se pravi mrtvom te čak pusti malo krvi. Ulovljena, izbacuje smrad iz analne žlijezde. Kao i ostale zmije, ovisna je o vanjskoj temperaturi, pa se često sunča.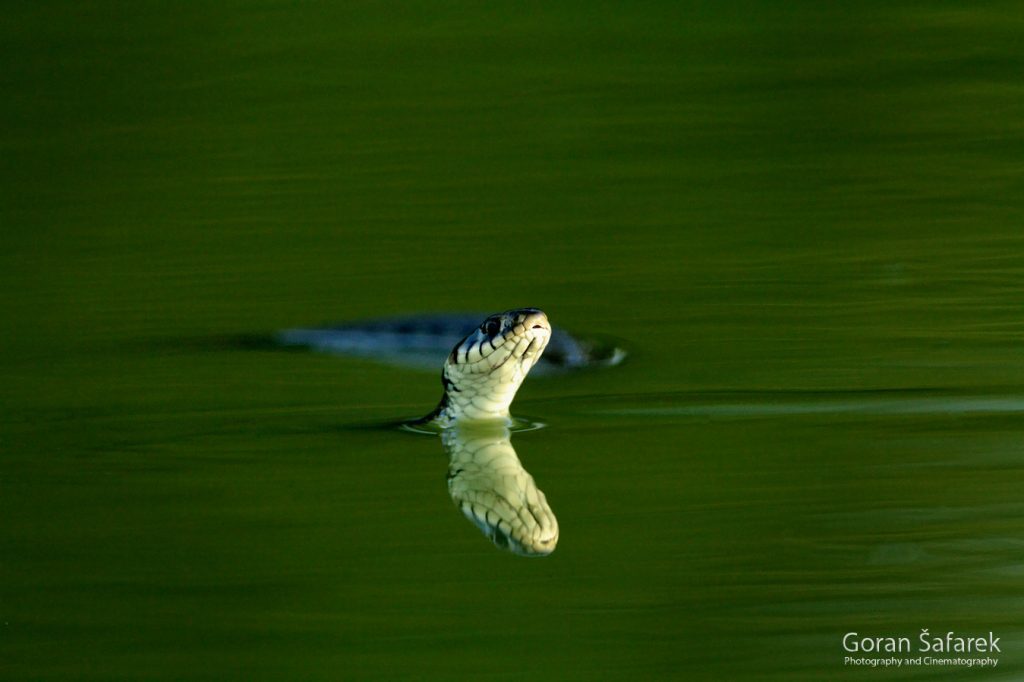 Pari se poslije višemjesečnoga zimskog mirovanja. To zna biti pravi spektakl: nekoliko se mužjaka zna omotati oko ženki i tada nastaje zmijska lopta. Mužjaci se međusobno hrvaju za pravo oplodnje, a borba i parenje potraju i koji sat. Od dva do pet tjedana kasnije ženka polaže tridesetak bijelih jaja u različite pukotine, rupe, lišće – na svako mjesto koje je zaklonjeno od pogleda. Iz njih se za nekoliko tjedana izlegu male zmije.