Kad grgeč (Perca fluviatilis) "nakostriješi" leđnu peraju, u vodi ga lako prepoznajemo. Poznat je i pod nazivima ostriž, kostriješ i bandar.
Svakako su im najmarkantnija tjelesna oznaka dvije leđne peraje. Prva, veća, sastoji se od 17 do 23 tvrde bodlje, a u drugoj je 13 – 16 mekih bodlji te 1 – 2 tvrde. Te peraje može grgeč priljubiti uz tijelo da se jedva vide i onda ih posve podignuti. Ostale peraje imaju crvenkastu nijansu, od kojih je repna peraja isto jaka. Škržni je poklopac nazubljen i bodljikav. Prekriven je sitnim ljuskama koje čvrsto pripijaju uz tijelo. Zelenkastožućkaste je boje, a na stranama ima 5 – 8 izduženih poprečnih pruga. Tamne su i daju mu kamuflažu. Naraste najviše do 50 cm, ali većina je do 20 cm. Mlade su ribe izdužene, a starije još i više. Obojenost i veličina dosta su varijabilne u različitim staništima.
Grgeč ne voli hladne i brze vode pa živi u dubokim jezerima, ribnjacima i sporim, nizinskim rijekama s dosta vodenog bilja. Živi s vršnjacima u manjim grupama, a tada često zajednički love. Grgeči su grabežljivci. Nisu brzi plivači, ali brojnošću napadaju jata uklija, bodorki i ostalih manjih riba. Starije su ribe osamljenije. Najčešće se viđa uz potopljeno drveće, granje i ostale prepreke u vodi. Posve mlade ribe hrane se zooplanktonom, i to blizu površine vode. Kad više odrastu, vraćaju se na dno do tri metra i hrana su im vodeni beskralježnjaci.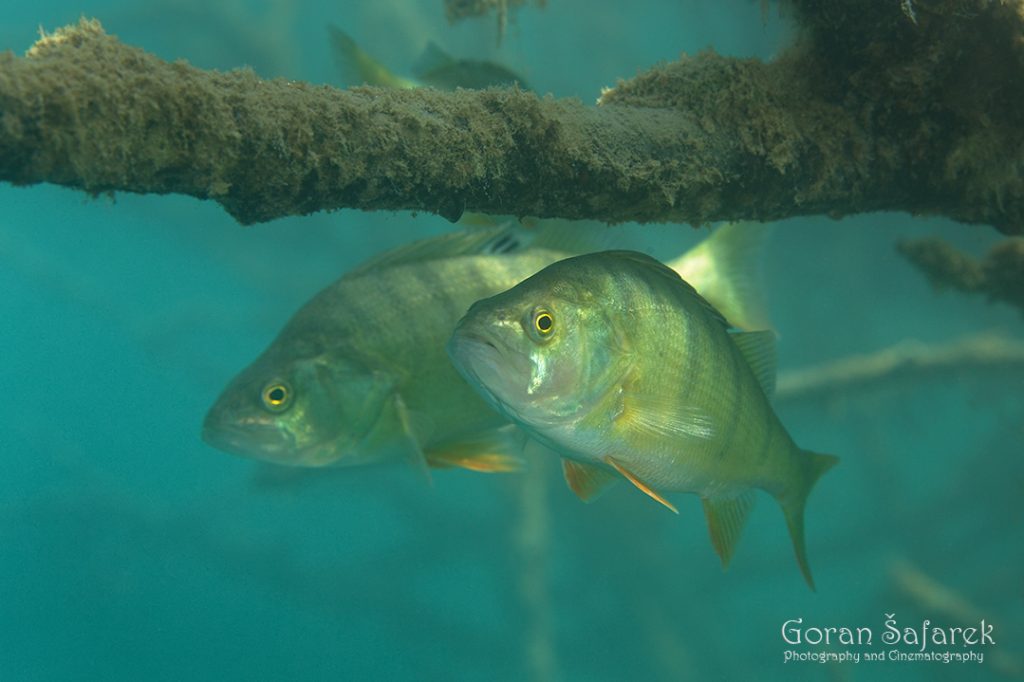 Odrasli grgeči love druge ribe, često samo malo manje od njih samih. Grgeči su dnevni lovci, s vrhuncem aktivnosti u sumrak i ujutro. Noću spavaju na dnu posve neaktivni, a tada se jato raspada da bi se ujutro iznova formiralo. Pola su sata ribe ošamućene od mrijesta. To traje dva tjedna, noć i dan. Inkubacija jaja traje dva tjedna. Spolno zreli postaju s četiri godine. Opasan dio života po grgeča traje sve do stadija kad se počinju hraniti ribom. Od tada je smrtnost manja, rast je velik u razdoblju od četvrte do šeste godine, a onda postupan.
Grgeči se razmnožavaju od ožujka do lipnja, kad temperature vode narastu na 8 ºC. Na mjesto mriješćenja dolaze prvo mužjaci pa 2 – 3 dana kasnije ženke. Ženke na vegetaciju ili ostale predmete polažu jaja u vrpcama dužine do metra koje mužjaci potom oplođuju.
Ova je vrsta česta i popularna je među ribičima. Grize cijele godine, a najviše u veljači te od lipnja do studenog. Relativno se lako lovi, posebno na blinkanje, odnosno špinanje (varaličarenje). Trza na gotovo sve što sjaji i vibrira, ali mamac ne uzima naglo.