Zbog svojih otrovnih bodlji čiji ubod izaziva jake bolove, pauk bijelac (Trachinus draco) proglašen je najzloglasnijom ribom Jadranskog mora. Nazivaju ga još i ranj, draganj i taranta.
Tekst i fotografije: Marinko Babić
Pauk bijelac je najčešći u Jadranu, znanstveni naziv mu je je Trachinus draco. Kako i priliči zmaju (lat. Draco – zmaj), ima zlokoban pogled i ostavlja dojam opasnog i opakog bića. Oči su mu izbočene, visoko smještene, sa zjenicama nepravilno izduženog oblika. Ružičasto sive je boje, koso izbrazdan po tijelu. Naraste u duljinu do 40 cm, a dosegne težinu do 1,5 kg. Mrijesti se od lipnja do kolovoza kada se pojavljuje u manjim skupinama. Živi na pjeskovitim i pjeskovito-muljevitim dnima na dubinama od 1 do 150 m. Omiljena su mu mjesta pijesak uz rubove podmorskih livada posidonije.
U Jadranu žive još tri pripadnika obitelji paukovki: žutac, bijelac, crnac i mrkulj.
Zakopavanje i zasjeda
Bijelac se vješto i brzo zakopava u pijesak tako da mu vire samo oči i prva leđna peraja. Za to mu je potrebno tek nešto više od sekunde. Tako neprimjetan, nepomično čeka u zasjedi. Kada mu se plijen dovoljno približi, napada ga brzim trzajem. Vrlo je proždrljiv i nije izbirljiv. Hrani se sitnim beskralježnjacima i ribom koji obitavaju pri morskom dnu. Zna napadati i ribe veće od sebe na koje nasrće svojim otrovnim bodljama. Unatoč moćnom oružju kojim raspolaže i on zna završiti kao plijen gofa, komarče, škarpine ili hobotnice. Zbog ukusnog bijelog mesa i ljudi ga rado uvrštavaju na svoj jelovnik.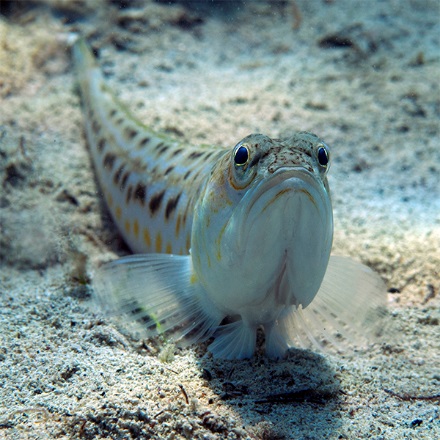 Otrovne bodlje
Otrovni aparat ribe sastoji od dugačke bodlje na škržnom poklopcu okrenute prema natrag i 5 do 8 crnih bodlji smještenih na prvoj leđnoj peraji. Otrov djeluje na živčani i krvožilni sustav čovjeka. Nakon uboda javlja se jaka bol koja u roku od tridesetak minuta postaje nesnošljiva. Bol se prvo javlja na mjestu uboda, a zatim se širi duž cijele ruke ili noge i praćena je otokom cijelog uda. Zabilježeni su slučajevi ribara koji su sami sebi amputirali ozlijeđeni prst zbog jake boli. Ubodna rana obično dosta krvari, a mjesto uboda najprije pobijeli, a kasnije pocrveni i poplavi. Ponekad se javlja pojačano znojenje, slabost, vrtoglavica, mučnina, povraćanje lupanje srca i visoka temperatura. Intenzitet tegoba će ovisiti o organizmu ubodene osobe i o veličini samog pauka. Otrovanje otrovom paukovki naziva se trahinizam. Od deset uboda pauka u devet slučajeva radi se o pauku bijelcu. Zanimljivo je da nakon nekoliko uboda čovjek razvije otpornost na njegov otrov.
Je li opravdan strah od životinja?
Prva pomoć
Nakon uboda pauka najprije iz rane treba ukloniti bodlju. Budući da je otrov termolabilan, treba što prije ubodeno mjesto uroniti u vruću vodu (40° do 60°C), toplu koliko se može izdržati a da se ne bude opečen. Ubodeno mjesto treba držati u vodi dok bol ne prestane, a to nastupa brzo. Otrov je tada uništen. Nakon toga svakako treba potražiti liječničku pomoć.
Oprez prije svega!
Pauk nije opasan samo za sportske ribolovce koji, loveći ga udicom dolaze s njim u dodir. Tijekom sezone mriještenja (lipanj – kolovoz), zadržava se u plićim dijelovima mora, pa se tako na njega može nagaziti u plićaku pješčanih plaža. Za hodanje po morskom dnu obavezno treba koristiti odgovarajuću obuću. Ne zaboravite da je i mrtav pauk otrovan!