Struganje i kuckanje, a u proljeće bubnjanje visoko u krošnji vrbe odaju pticu veliki djetlić (Dendrocopos major).
To je naša najčešća vrsta djetlića. Ima crna leđa, uočljivu bijelu plohu na krilima i crveni podrepak. Glava je crnobijela, a mužjak se razlikuje od ženke crvenim zatiljkom. Let mu je izrazito valovit, s povremenim zamasima i skupljenim krilima. Najčešći je i najprepoznatljiviji zov prodoran "čik", često u nizu. Hrani se kukcima potkornjacima i njihovim ličinkama koje vadi kljucanjem po drvetu snažnim i pri vrhu oštrim kljunom.
Pritom se u puzanju gore-dolje po stablu služi kratkim i čvrstim repom. Osim toga, i stopalo mu je prilagođeno za kretanje po drveću u svim smjerovima, a oštrim se pandžama drži za koru. Na drvetu ostaju ozljede, odnosno rupe, ali to je ionako najčešće već mrtvo, polutrulo drvo. Jede i lješnjake, orahe i sjemenke iz češera crnogoričnog drveća, voće, a dolazi i na hranilice zimi. Upotrebljava "nakovanj", odnosno ukliješti tvrdi orah ili češer u pukotinu u stablu te ga otvara.
Pročitajte o ostalim djetlićima Hrvatske
Veliki djetlić je oportunist, kako pri izboru staništa tako i pri izboru hrane. To mu omogućuje da bude najrasprostranjenija palearktička vrsta djetlića. Iako najveći udio hrane velikog djetlića čine kukci, osobito potkornjaci i ličinke strizibuba, dakle kukci koji žive u drvetu, mladunci manjih vrsta ptica uobičajen su dio prehrane. Pogledajte članak o grabežljivosti nad drugim pticama
Za hranjenja čuje se tiho kuckanje. Većina ljudi čuje bubnjanje, seriju brzih udaraca kljuna o drvo, kojom se djetlići služe pri označavanju teritorija ili dozivanju svog partnera. Djetlić se koristi omiljenim bubnjalištima, obično pri vrhu drveta na mrtvim granama. Gnijezdi se u rano proljeće te oba spola dube rupu za gnijezdo na stablu. Rupa je duboka tridesetak centimetara s ovalnom prostorijom na kraju. Kad gradi gnijezdo, izbacuje van ivere drveta, a dijelom oblaže gnijezdo. Ženka polaže 4 – 7 jaja na kojima leži 2 tjedna, a potom oba roditelja hrane mladunce koji imaju crveno tjeme.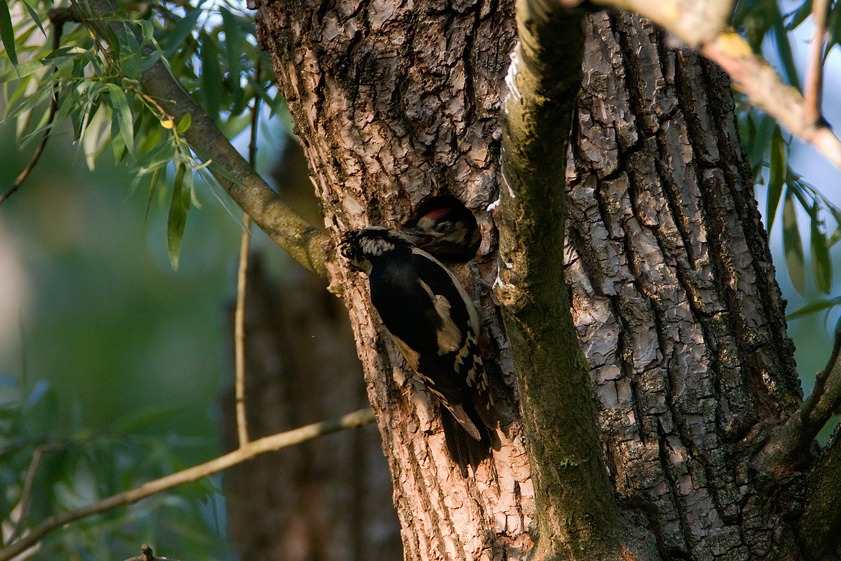 Veliki djetlić voli prirodne i stare šume po cijeloj Hrvatskoj, s mnogo trulih stabala punih ličinaka kukaca jer lakše dube drvo. Nalazimo ga i u parkovima, voćnjacima… U Hrvatskoj živi svih deset vrsta europskih djetlića i sve one imaju važnu ulogu u šumskom ekosustavu, ne samo kao prirodni "čistači" šuma od ličinaka kukaca već i kao graditelji duplji, što je jedinstvena prilagodba u ptičjem svijetu. Te duplje ostaju u staništu i važne su za niz drugih vrsta ptica, gmazova i sisavaca.