Dobri dupin (Tursiops truncatus) je sisavac iz skupine kitova zubana. Njegova inteligencija i razigranost oduvijek su privlačili ljude.
Dobri dupin (Tursiops truncatus) je sisavac iz skupine kitova zubana. Nažalost, bio je i konkurent ribarima za hranu, pa je istrebljivan. Nasreću, danas dupinovo "nasmiješeno" lice postaje simbol očuvanog Jadrana.
Tamnosive je do crne boje na leđima, svijetlosive na bokovima i bijele na trbuhu. Prosječna je veličina odraslih dobrih dupina u Jadranu oko 3 m, a težina oko 250 ‒ 300 kg. Hidrodinamičnog je tijela pa brzo pliva. Ovi dupini imaju zakrivljenu leđnu peraju kojom stabiliziraju tijelo. Plivaju snažnom leđnom perajom, a prsnim perajama skreću i zaustavljaju se. Osobito je prepoznatljiva njihova kratka njuška.
Dupini su stanari pelagijala. Dupini imaju pluća te moraju udisati zrak na površini. Rone u prosjeku 5 ‒ 6 minuta, ovisno o dubini koja može biti i do 450 metara. Za razliku od ostalih sisavaca, disanje je svjesna aktivnost, odnosno sami odlučuju kada će udahnuti i izdahnuti. Zanimljivo je da dupini "spavaju", ali samo jednim okom i suprotnom polovicom mozga dok se druga odmara i suprotno. To je prilagodba na svjesno disanje, ali i stalna budnost od grabežljivaca. H
Dupini se hrane ribom, mekušcima poput lignji i ostalim većim plijenom, bilo pri dnu ili na otvorenome moru. Plijen lociraju pomoću visokofrekventnih zvukova (eholokacija), slično kao što se ljudi koriste sonarom.
Budući da su društvene životinje, komunikacija je među dupinima vrlo važna. Njihovo glasanje podsjeća na zviždanje, pucketanje, klikove… Zbog složenosti zvukova neki govore o "dupinskom" jeziku. Dupini se u komunikaciji služe i pokretima, dodirima, čak i nekim predmetima poput alga, spužava, plastike … Uvijek su u skupinama, u Jadranu manjima (5 – 7 životinja, a u najvećima ih je i više od 50). Skupine se mijenjaju, ovisno o parenju, lovu, podizanju mladunaca, obrani u ostalim okolnostima. Život u skupini donosi složene oblike ponašanja, a često to povezujemo s inteligencijom u čovjeka. Dupini se često i "igraju": skaču visoko, guraju se i dodiruju, lagano jedni druge grizu za peraje, igraju se lovice. Time pokazuju dobro raspoloženje.
Dupini su promiskuitetni te nema parova. Trudnoća traje godinu dana, a mladunci se na Jadranu kote tijekom ljeta. U to je doba more već dovoljno toplo, što je važno jer mladunci nemaju dovoljno izolacije potkožnih masnih naslaga. Majka pomaže potomku da dođe do površine i prvi put udahne zrak. Mladunci ne sisaju kao ostali sisavci, već majka iz bradavice štrca vrlo gusto i masno mlijeko koje se ne miješa s morem. Dugo ostaju s majkom, a spolno su zreli tek od svoje pete do desete godine.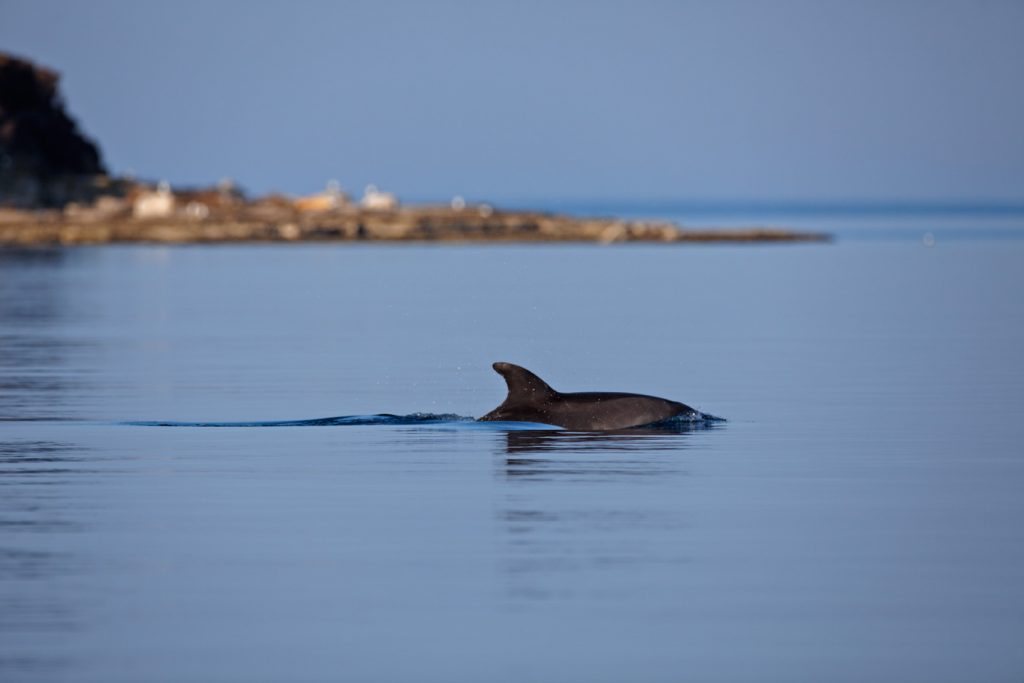 Također, ženke se kote svakih 3 – 5 godina, pa je porast populacije relativno spor. Dobri je dupin u svijetu široko rasprostranjen, osim u polarnim morima. Nalazimo ih i po cijelom Jadranu, u zasad poznatim rezidentnim populacijama pokraj Lošinja i Cresa, Kornata te Visa, a pretpostavlja se da postoje jedinke koje ne pripadaju pojedinim područjima već se mogu naći na širim područjima.